With the end of the year quickly approaching and the month of November going in full swing, Epic Seven is bringing brand new events and campaigns to players with one of their biggest end of the year celebration campaign in the brand new Winter 2023 Update Patch with a large variety of rewards, free pulls, a free Moonlight Hero and special limited time banners rate up for players to participate in and obtain all of the rewards. In addition, with this special update of Epic Seven, players will have the chance obtain a free Moonlight 5* Hero for free through the returning Moonlight Hero Headhunting Event - Winter edition.
In this guide, we will go over all of the exciting upcoming contents coming to Epic Seven through the special Winter 2023 Update Patch and advise players on how they can best obtain all of the rewards that will be available during this special update period for Epic Seven. In addition, we will also go over how players can obtain a free Moonlight 5* Hero for free through the returning Moonlight Hero Headhunting Event - Winter edition.
---
Contents:

Let's play Epic Seven on PC and find out together.
---
Epic Seven Winter 2023 Update Patch - How To Obtain All Rewards
With the release of the Epic Seven 2023 Winter Update patch, players will be able to partake in special events and campaigns celebrating the occasion with a large amount of rewards available for all players to obtain from these events.
Free 77 Summons Log In Event
The first special celebratory campaign during the Winter Epic Seven Patch Update celebration is that for 7 days during the event, all players will receive 10 free summoning opportunities per day, up to 70 free covenant summons during the event period.

Make sure to log into the event period everyday during the event period to claim all 70 free summonings, if you miss logging 1 day, you will lose 10 free summoning opportunities of that day.
It is also important to keep in mind that this only applies to Covenant Summons, meaning you won't be guaranteed any 5* Hero from this as the Covenant Summons doesn't have a 5* Hero pity system, so its will all depends on your own luck during these free summoning sessions.
Special Limited Log In Rewards
Together with the special 77 free summons log in event, players will also receive a special limited time package that will prove extremely useful for all players, including exclusive items such as up to 20 Golden Transmit stones, 2000 Conquest points, 100 Silver Transmit stones, 1 Unknown Slate and 1 Bottle Of Knowledge.

With these items, players will be able to exchange them for special rewards in the transmit stone shops, including various items including character upgrading items, character EXPs Penguins, special limited time items to upgrade special Moonlight heroes and more. In addition, players will also be able to use the 2000 Conquest points to exchange for limited arena season items from the arena shop to strengthen their heroes with powerful equipment and gears.
Aside from the currencies to exchange for items in the shop, players will also be able to obtain 1 Bottle of Knowledge and 1 Slate of Origin, the first of which will allow players to further enhance a 5* artifact to its higher state, enhancing its effect further and the latter of the items will allow players to increase or unlock the special Imprint system for 1 5* hero of their choosing, allowing them to gain extra stats and abilities based on how high their imprint level is.
Custom Group Summon
The Custom Group Summon system makes its triumphant return with the chance for all players to roll for all of the limited characters in the game at this time. This is one of the best chances for all players to boost their heroes roster or hunt for their favorite heroes as it is a very rare occasion that the Custom Group Summon system makes it return.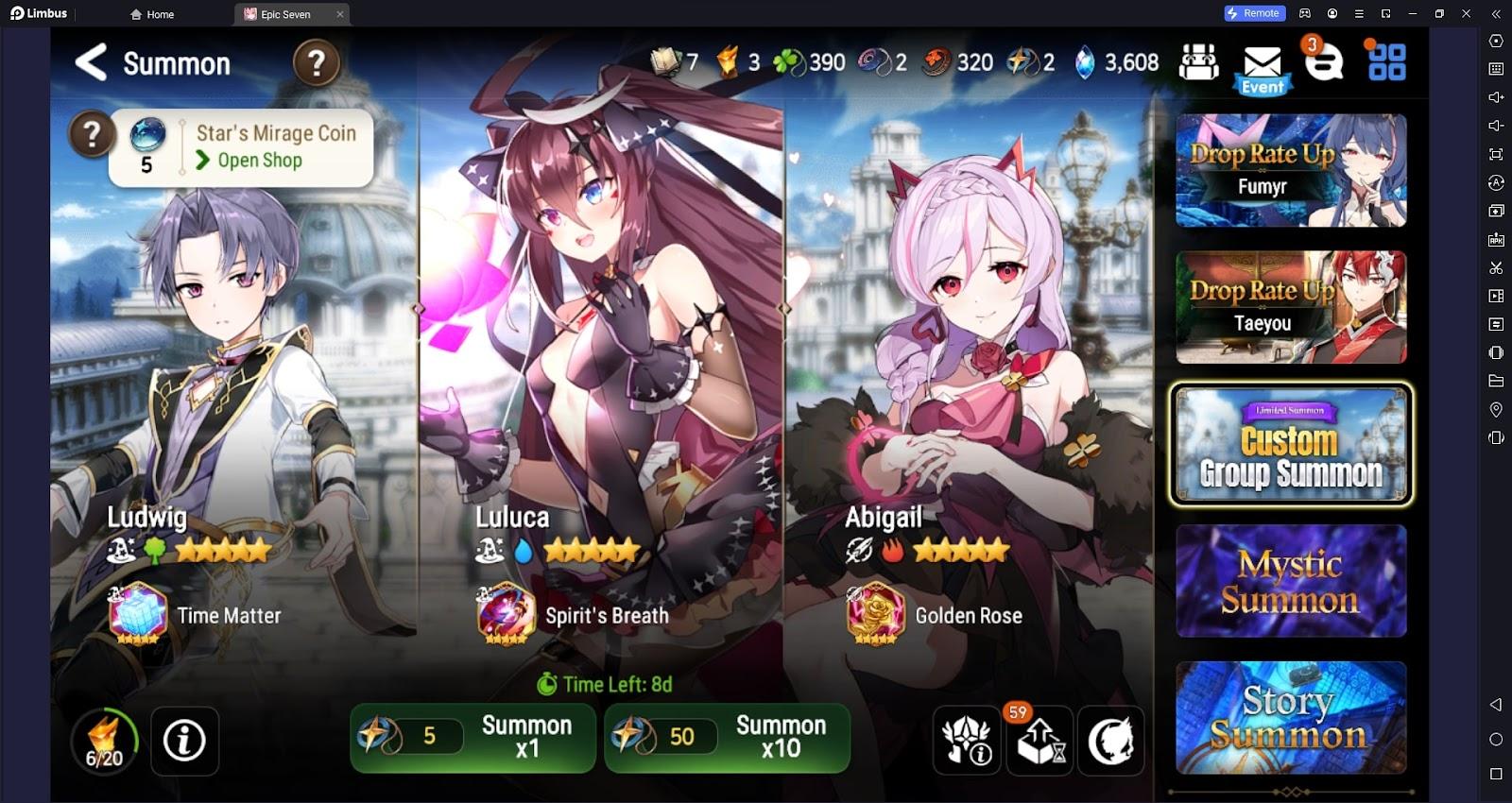 Like normal, the Custom Group Summon system will let players choose 3 heroes that they would want to be rated up and roll for them with the usual Covenant Bookmarks. Once a 5* Hero is summoned, it is guarantee to be one of the 3 5* heroes selected without fail. In addition, the selected heroes will have their signature Artifacts rated up in addition to the hero, helping players to get both the heroes and artifacts suitable for them much easier.
As mentioned, the Custom Group Summon system also rate up Limited Heroes and their Limited Artifacts, so if players haven't gotten the Limited Heroes in the game, now is the perfect chance for them to attempt to try and get them.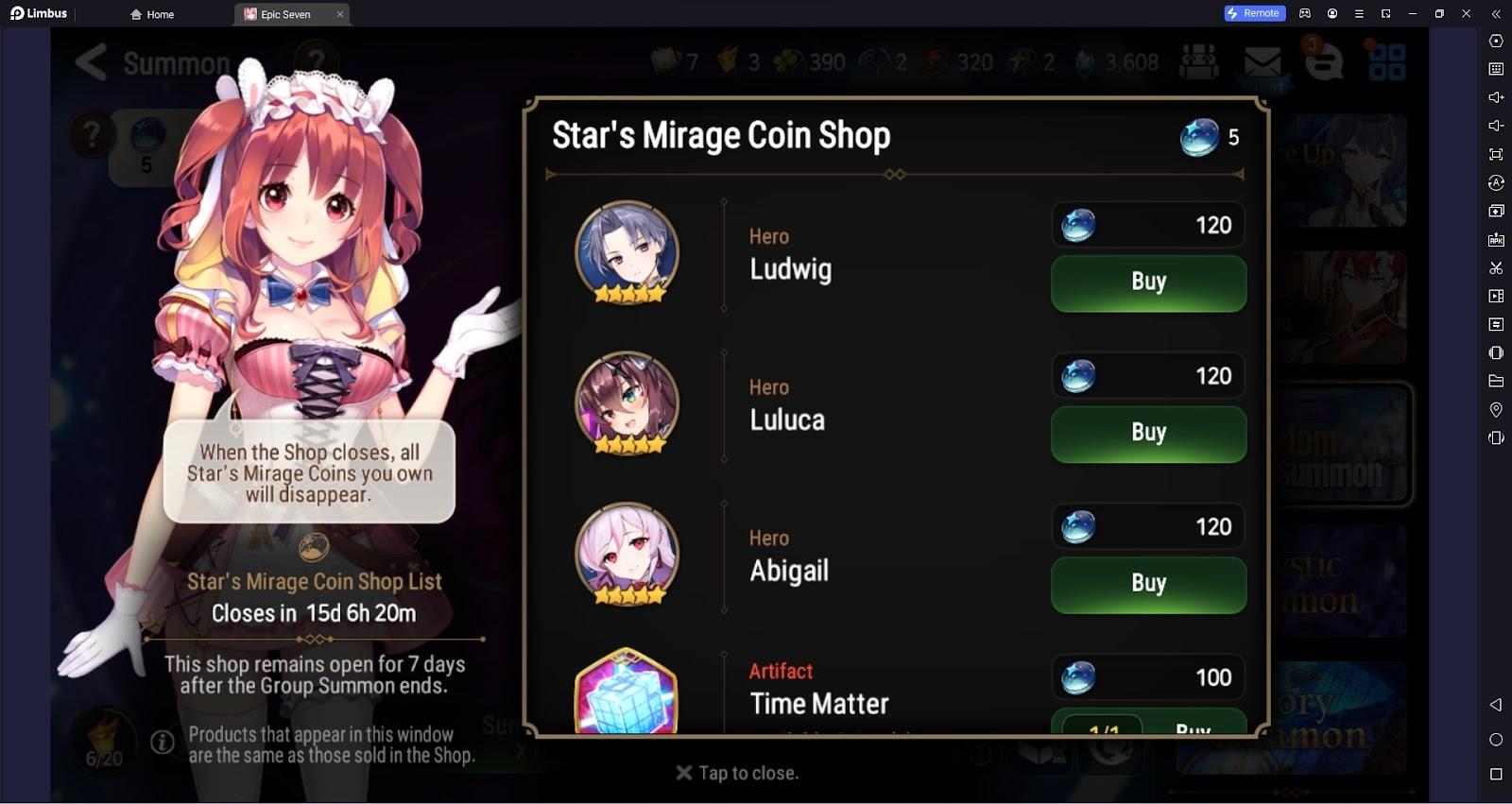 When summoning on this banner, players will be rewarded with 1 Covenant Coin for each summon, which can be used to exchange for various rewards in the shop. If a player gathers 120 coins, they can straight up exchange for 1 of the 3 heroes that they select to be rated up, making it even easier for players to roll for these heroes.
For heroes players should choose for the Custom Group Summon System, players can check out this guide from us for more details.
---
Moonlight Hero Head Hunting Event - Winter Edition
A 5* Moonlight Hero is among the rarest heroes in the entire game with a 0.1% chance for players to obtain 1 for each Covenant Summons and only 2% Chance on each Moon Light Summons. Therefore, the news of a special Moonlight Heroes Headhunting event which guarantees players a Free 5* Moonlight Hero of their choice is one of the most shocking and best events in the history of Epic Seven as a whole.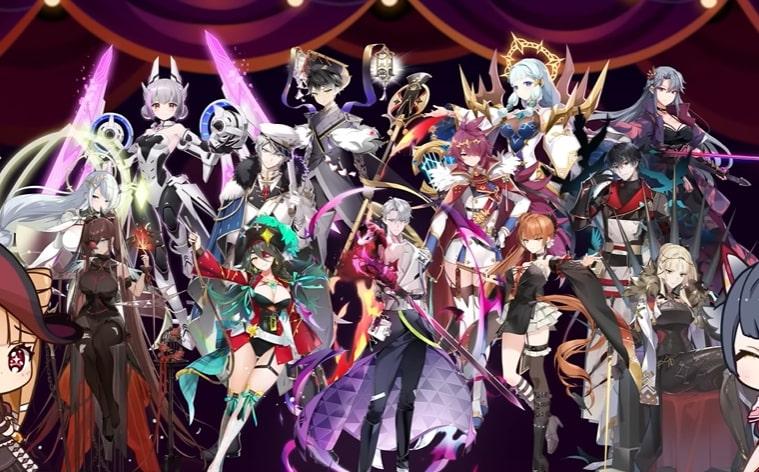 How does it works
The Moon Light Heroes Headhunting Event is available for all players who have cleared chapter 10 of the 1st main story chapter, and is available for 90 days from November 23rd.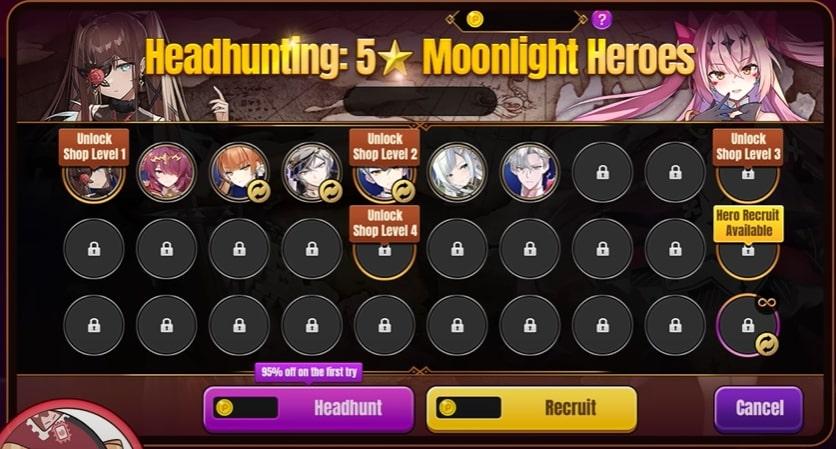 Players will be rewarded with special points once they complete specific tasks such as daily missions, weekly missions and spending energies on stages. These points can then be converted into a Headhunting ticket that will headhunt a hero and fill up 1 of the slots in the event screen. Each headhunt can only be done once daily and cost 800 points for each slot (40 for the first headhunt).
Headhunting Process
Once players have spent the points to headhunt moonlight heroes, the slots will be filled with the heroes they can pick once the recruit system unlock. Players will need to headhunt a total of 20 heroes (= 15240 points) in order to unlock the recruitment system. Players can also spend points to re-headhunt some duplicate heroes in order to broaden the selection of moonlight heroes that they are allowed to recruit.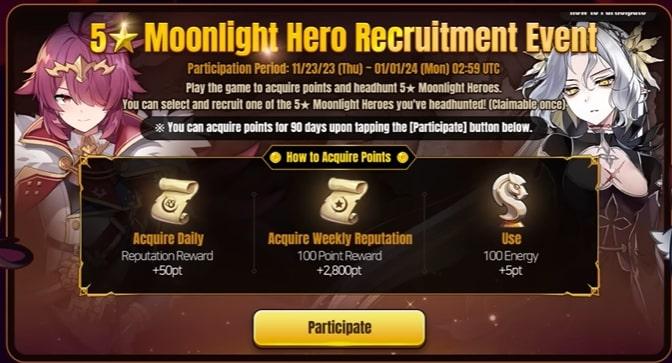 Once the recruit system is active, players can recruit a hero from the slots for 2400 coins and add that hero to the roster Permanently with no strings attached.
Exchange Shop
In addition to the headhunting system, a special exchange shop will be available for players to exchange their points for special items, including the Promotion Potion which instantly promotes a hero to 6* without using up any resources.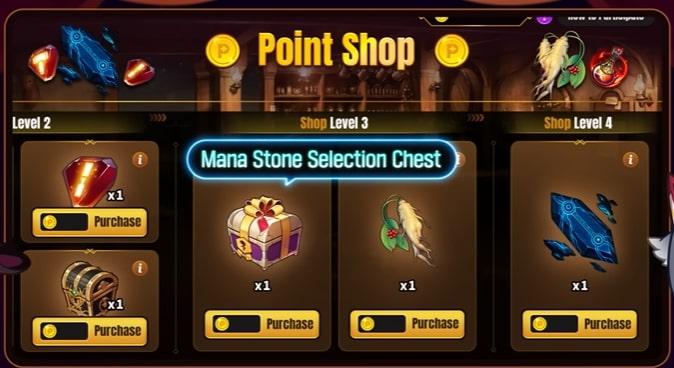 However, players should only start exchanging things in the shop once they have managed to unlock and recruit the 5* Moon Light Hero of their choice.
How to Quickly Recruit a 5* Moon Light Hero
The quickest and less resource consuming way players can get the recruitment system to open is to finish daily and weekly tasks for each week in addition to spending as much energy as possible.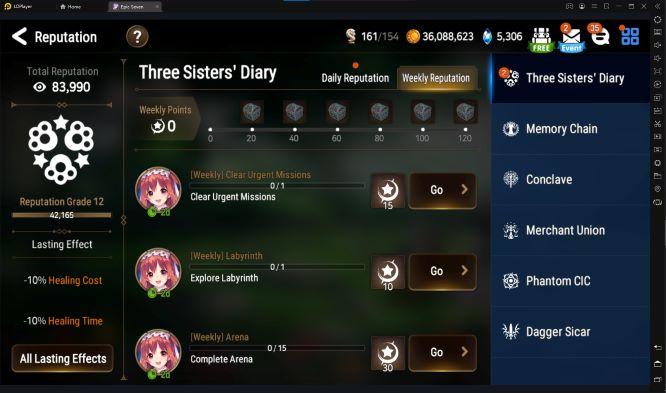 Each Daily Tasks are worth 50 points, each 100 energies spent are worth 5 points and if the player reaches 100 points for the Weekly tasks, they will be rewarded with 2800 points, therefore, the most surefire way to get there quickly is to clear weekly and daily tasks constantly. With this, within ~ 7 weeks, players will be able to recruit the hero of their choosing.
---
LDPlayer 9.0 - The High Quality Epic Seven Gaming Experience
LDplayer is the most stable emulator to allow players to run Epic Seven smoothly, at high speed and high quality, and provides many amazing functions to help all players to have the perfect Epic Seven Gaming Experience.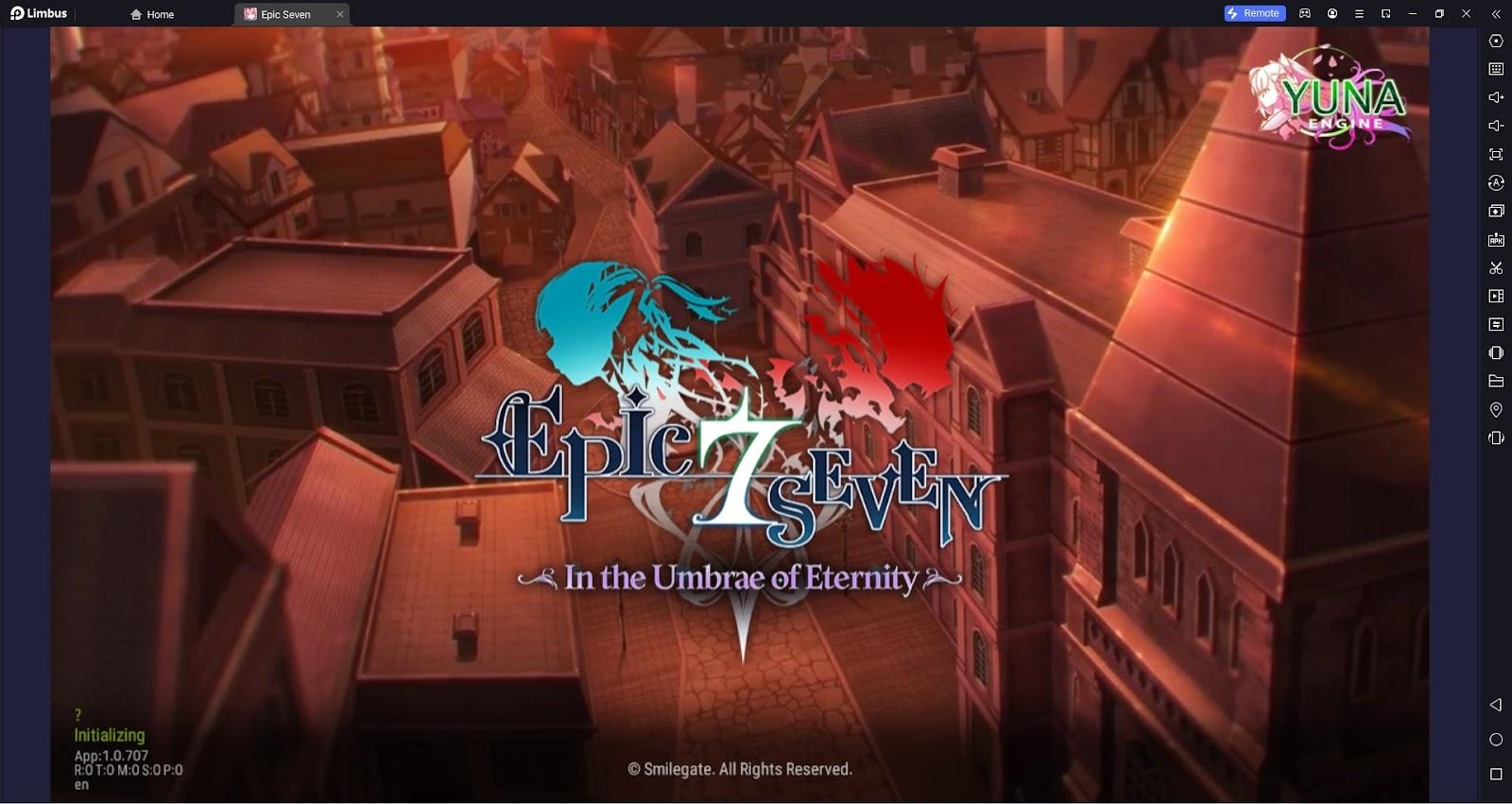 For newer players that intend to join the game, it is recommended that they utilize LDPlayer's multi-instances function to reroll and have the perfect head start in the game.